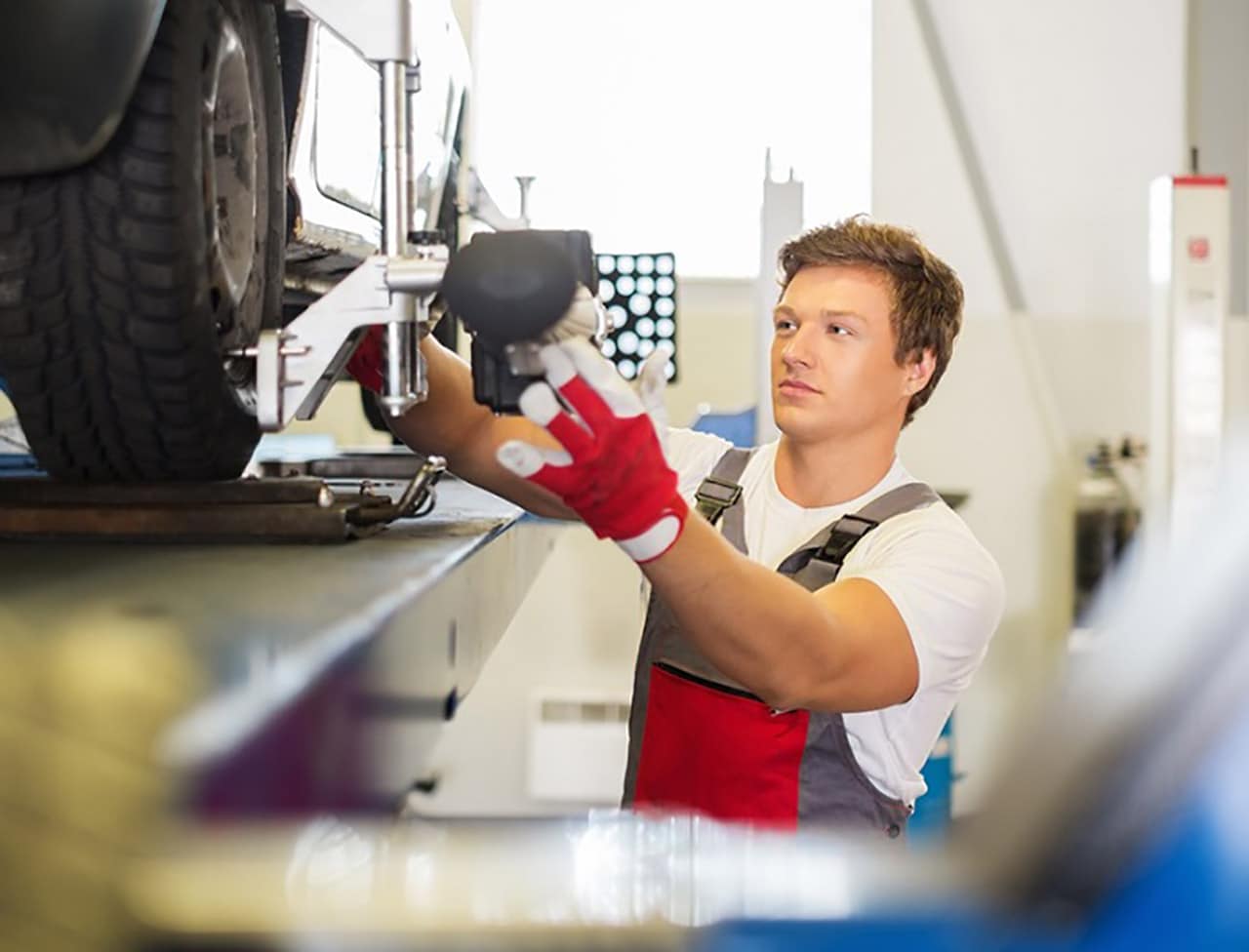 Treating your Nissan vehicle to a wheel alignment in our Nissan service center serving Chesapeake, VA is a great way to maximize fuel efficiency and safety. Whenever you visit our nearby Nissan showroom, our experienced service professionals will check your wheels to ensure they're on the straight and narrow.   
What Is a Wheel Alignment?  
A wheel alignment is an important procedure that ensures your Nissan vehicle tracks straight and true during operation. Poor alignment can cause several problems, including premature tire wear, suspension failure, and diminished steering.  
A typical wheel alignment procedure involves adjusting the camber (the outward or inward tilt of the tires when viewed head-on), the caster (the front or rear tilt of the tires when viewed from the side), and the toe (the way the tires are pointed when viewed from above). "Toe-in" means the tires are pointed inward, while "toe-out" means they are turned away from each other.  
The objective is to have all four tires working together and tracking in the same direction. Hall Nissan Chesapeake recommends getting your alignment checked every six months or 6,000 miles, whichever comes first.  
It's important to note that misalignment can happen from a sudden impact on the road, such as hitting a pothole or a curb, or getting into a collision. If you start to experience crooked or noisy steering, pulling to the left or right, or squealing tires, bring your car in for an inspection! 
Why Choose Our Local Nissan Dealership for Service?  
Staffed by experienced, highly certified technicians, our Nissan service center offers everything you need for a long, trouble-free ownership experience behind the wheel of your Nissan automobile. We have the tools and technology to perform countless automotive services, including wheel alignments, and our Nissan parts dealer only uses genuine Nissan parts and components, so you never have to worry about quality.  
While you're waiting for service to be completed, you can relax in our comfortable customer lounge with free Wi-Fi, snacks, and beverages.  
Before you visit us for service, make sure to visit our website for the latest Nissan service specials near Suffolk, VA. From wheel alignments and oil changes, to tire rotations and new windshield wipers, you'll have lots of opportunities to save big.   
Get Nissan Car Service Today  
For expert Nissan service, visit our local Nissan dealership serving Chesapeake, VA. We'll provide your Nissan Sentra or Nissan Armada with a wheel alignment and everything else it needs for optimum performance, efficiency, and safety.