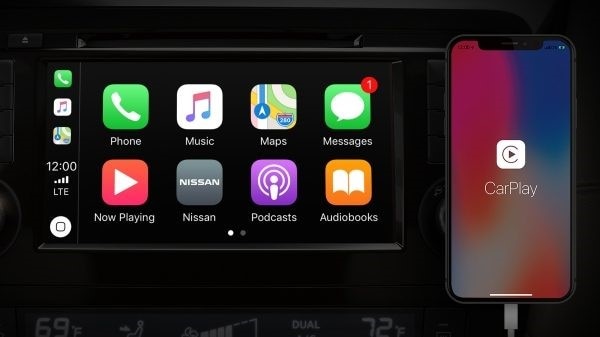 From the moment iPhones were introduced to the public, automakers began figuring out way to bring their many and varied conveniences into automobiles. Originally, that started off as an auxiliary input to stream music, and then Bluetooth® allowed wireless connectivity for certain infotainment features. Now, there's Apple CarPlay™, which allows drivers to link up their iPhones to their vehicles in the most practical way yet. In other words, it's never been easier (or safer) to make use of your smartphone in conjunction with Nissan autos.
There are four main ways in which Apple CarPlay™ can be used hands-free while driving certain new and used Nissan vehicles.
Apple Music

If you use iTunes, chances are good you've got a great music collection you'd love to access while driving. Apple CarPlay™ allows you to access all that music using your Nissan vehicle's normal audio controls.
Apple Maps

Unlike some other navigation apps, Apple Maps can predict your destination using your calendars, contacts, and more. It also has a "Nearby" feature that helps you find gas, restaurants, and nearby hotels more easily.

Make Calls

Drivers can make hands-free calls using voice commands, as well as listen to voicemail and return missed calls while driving.

Send and Receive Messages

Siri™ is great for a lot of things, but she's especially great for reading, replying to, and sending text messages without ever having to pick up your phone while driving.

The technology integration is a piece of cake; all you have to do is connect your phone to the vehicle and head on your way. In no time, you'll be using your iPhone in all new ways without ever having to take your eyes off the road to do so. If customers in and around Western Branch, VA are interested in seeing how this works in person, come pay us a visit, and we'll be happy to show you Apple CarPlay™ in person!