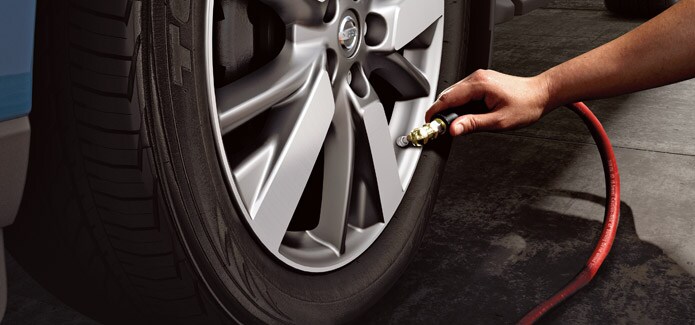 According to the National Highway Traffic Safety Administration, four out of five drivers are traveling around this summer with improperly-inflated tires, which not only is dangerous considering tires filled with the wrong amount of air can increase the potential for a flat tire, but also because it can be more expensive for drivers. One study found that customers can save 11 cents per gallon on fuel and can extend the lives of their tires by 4,700 miles simply by ensuring their tires are filled correctly.
Five million U.S. drivers have the Nissan easy-fill tire alert technology, so doing precisely that has never been so easy. While plenty of vehicles of all makes and models have alerts when tire pressure is low, it doesn't always tell drivers how low that tire pressure is or even which tire is the culprit.
Easy-Fill Tire Alert changes that by helping Hall Nissan Chesapeake drivers stay on top of their exact tire pressure in each wheel at all times, and then when it is time to fill those tires, there is no need for a tire gauge or even any knowledge of the necessary PSI for your tires. Your Nissan SUV or car will simply honk lightly when a tire is filled to the correct level.
"Ensuring your tires are inflated to the correct pressure is one very simple step consumers can take to help make their vehicles safer, especially with the start of summer road trips," said Sarah Cardinali, senior manager, Product Safety, Nissan North America. "Nissan's Easy-Fill Tire Alert takes the guesswork out of filling tires and makes simple vehicle maintenance less intimidating for the average driver."
If you are planning summer travel in the next few months, make sure your tires are properly-inflated using the Easy-Fill Tire Alert!