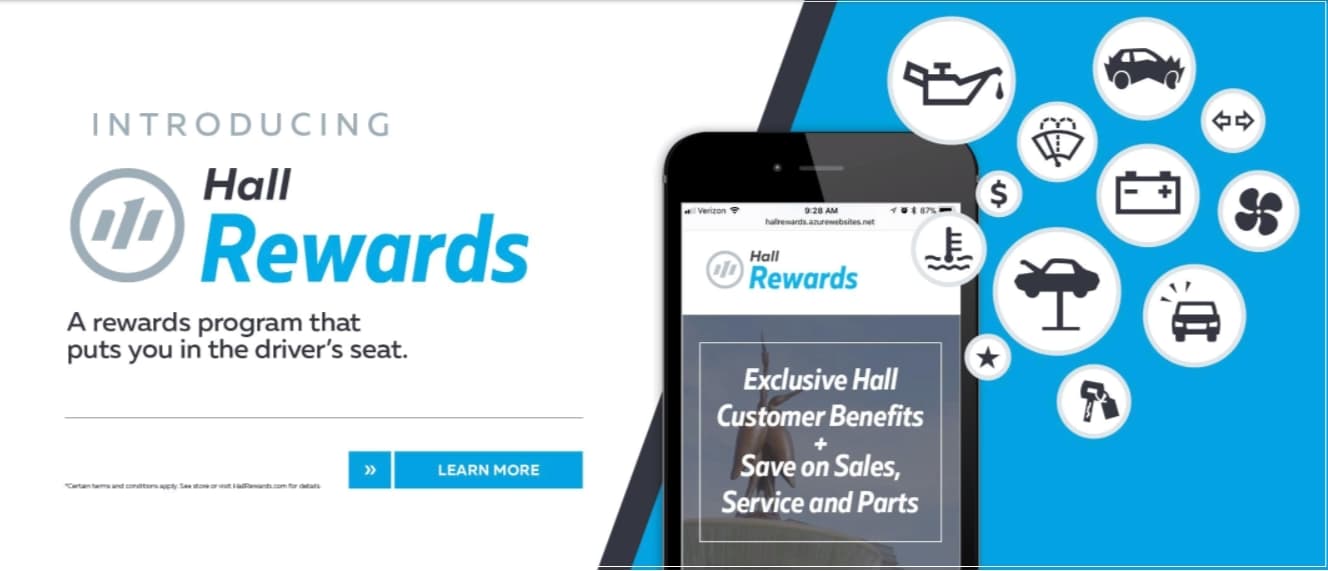 Your car needs regular maintenance. Oil changes and tire rotations are part and parcel of owning a car. After a while, the need to change out the tires, brake pads, and rotors also comes along. Then there's seasonal service. With cold weather finally settling in here near Hampton, VA, it's a great time to make an appointment at the Hall Nissan Chesapeake service department to winterize your car. And let's not forget the biggest car expense you make: A car purchase! Whether it's time for an upgrade, or you've got a new driver in the house, sooner or later you'll be car shopping once again.
Wouldn't it be great to be rewarded for all of these purchases? After all, it seems every other business has a rewards program these days, from your grocery store to your coffee shop to your favorite lunch spot. Well, if that's what you're thinking, then we think you've got a point. And that's why we're excited to announce the Hall Rewards program. Enroll today and start earning points at all 14 Hall dealership locations.
A trip to the body shop will get you 1 point for every $1 you spend. Parts and maintenance will get you 5x times that, with 5 points earned for every $1 spent. MileOne Credit Card holders, you're in luck. When you join the Hall Rewards program, you'll get 500 points every time you use your card, and as a bonus, you'll enjoy extended no-interest financing on card purchases.
Is it time to go car shopping? Then we definitely recommend you sign up. Not only will you earn 10,000 points for your purchase of a new or pre-owned vehicle, but as a Hall Rewards member, you'll also get a $500 trade credit and a 7-day or 500-mile vehicle exchange. Redeem those 10,000 points on service, parts, or another new or used vehicle purchase or lease.
That's not all Hall Rewards members get. Access to exclusive sales events, pre-travel inspections, and lifetime Virginia and North Carolina state safety inspections are all yours, along with complimentary shuttle service to and from our service department and a Vehicle Health Report with every visit. What are you waiting for? Enroll here at our dealership today!