Last month, ProPILOT Assist™ took to public streets in the U.S. with the media in tow to mark the momentous occasion. Just what is ProPILOT Assist? It's the Nissan brand's incredible technology aimed at making your Nissan vehicle smarter and helping to ease the hassle of stop-and-go driving.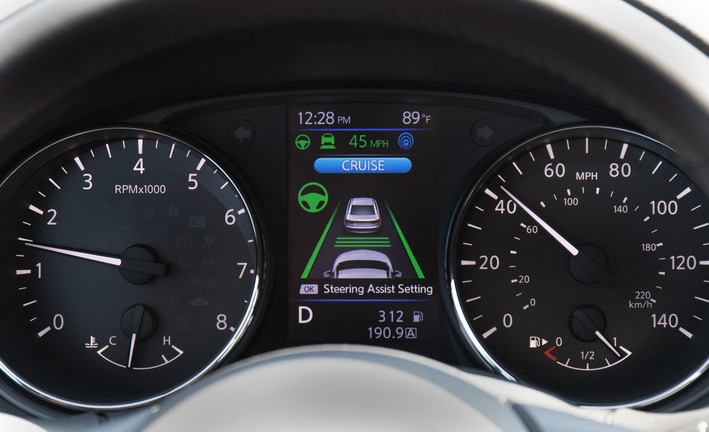 The ProPILOT Assist system was revealed at the Nissan Technical Center North America (NTCNA) in Michigan. Its development has spanned more than 50,000 miles on roads across the U.S. In fact, the system is tuned specifically for U.S. roads. By combining the Steering Assist and Intelligent Cruise Control, the system provides a "hand-on" driver assist system aimed at lessening driver fatigue and creating a more confident driving experience. Drivers who experience heavy highway traffic during their commute stand to benefit the most from the technology, which will be available later this year.
The technology makes use of input from a forward-facing camera, forward-facing radar, sensors, and electronic control module to help keep the driver's vehicle in the center of the lane. With the driver's hands on the steering wheel, sensed by the system's steering torque sensor, the system makes the tiny steering adjustments necessary to continue traveling within the lane. That takes the effort necessary for those small course adjustments off the driver, while still leaving the driver in control.
The ProPILOT Assist system also helps to maintain vehicle speed after that speed is set by the driver. If the speed of the vehicle ahead drops below the set speed, the system will adjust accordingly to keep a safe following distance. If traffic stops, the system can slow the vehicle to a stop and hold it there during traffic jams.
The Nissan brand's ProPILOT Assist system promises to give drivers the best of both worlds, easing driver fatigue while keeping the driver in control. We're excited to check this technology out for ourselves here at Hall Nissan Chesapeake. In the meantime, head into our Chesapeake, VA dealership to check out our selection of
new Nissan vehicles
and pre-owned cars.